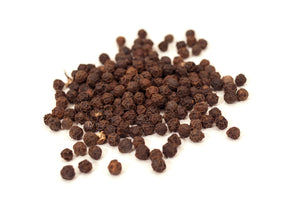 Shanti Chai & Co
Black Peppercorns
Regular price
$5.00
$0.00
Unit price
per
The fruit of of a flowering vine in the Piperaceae family, black peppercorns are native to India and have been used for thousands of years, both in traditional medicine and as a key flavouring ingredient in countless dishes. Black pepper is used in most culinary traditions of the world, and of course can be found in its ground form on almost every table.
Known for its spiciness and kick, it is also a key ingredient in many chai blends and can be found in three out of four of ours - Original Chai Blend, Golden Turmeric Chai and Candied Ginger Chai.
Use these whole black peppercorns in your favourite pepper grinder and top on egg dishes, pasta, fish and meat. Or use in their whole form in your own chai masala!
Ingredients: Organic black peppercorns (whole)
Available in two sizes:
25g (Pouch) - $5.50
50g (Tin) - $9.50
---
Share this Product