Welcome to Shanti Chai & Co!
Based on the West Coast's beautiful Vancouver Island, we are a family-owned Canadian tea online retailer specializing in premium chai, herbal blends and teas made from well sourced and all organic ingredients. Our chai blends are sure to excite both the chai connoisseur and those new to the beverage, while our herbal blends and teas of the world will make the perfect pot for you or gift for your tea loving family and friends!
Summertime Sips! Iced Chai, Iced Tea...
Blog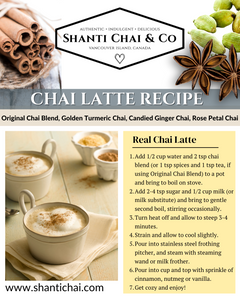 Ok, baby it's cold outside. And it is time for something sweetly spiced and deeply warming. Try this simple Real Chai Latte recipe - and save or print this recipe...
Authentic, Indulgent and Delicious
Our mission at Shanti Chai & Co is to provide the highest quality organic chai, blends and teas and to help spread the joy of brewing and steeping your perfect cup.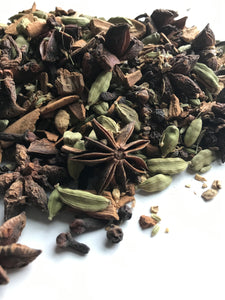 Thank you for visiting Shanti Chai & Co online. Wishing you many cozy cups of chai and refreshing cups of tea! Find out more about us.
Our Original Chai Blend • Ingredients