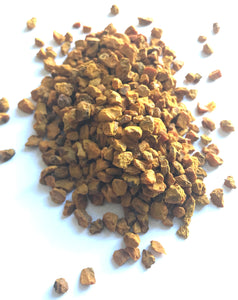 Shanti Chai & Co
Turmeric
Regular price
$7.00
$0.00
Unit price
per
This golden superpower superfood is a great ingredient to have in your cupboard, as it can be used in curries, baking, smoothies, chai and tea blends, tisanes, as a face mask and more. The benefits of turmeric are many (read more about turmeric's adaptogenic qualities here) and include its ability to reduce inflammation, heal the skin, and fight aging.
Ingredients: Organic turmeric (C/S or cut and sifted)
75g (Pouch) - $8.50
Please note: Turmeric can be found in C/S (cut and sifted) form in our Golden Turmeric Chai and in its ground form in our Spiced Golden Milk - our take on traditional golden milk.
---
Share this Product