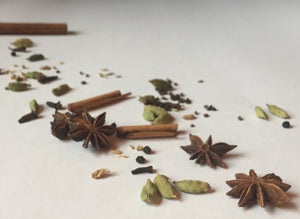 Need another reason to drink a nice cup of chai? Or how about seven! Traditional masala chai is made up of a blend of spices (like cinnamon, cardamom, ginger, peppercorns, cloves, fennel) combined with a black tea, often an Assam tea. Each of the spices used in chai has its own list of health benefits, especially the well known and much loved spice heavy hitters like ginger and turmeric. So, we could spend an entire blog post on any one of them - and one day, we will! - but for this post, we wanted to focus on the health...
• Assam Tea • Candied Ginger Chai • Chai • Golden Turmeric Chai • Health Benefits of Chai • Original Chai Blend • Whole Spices
---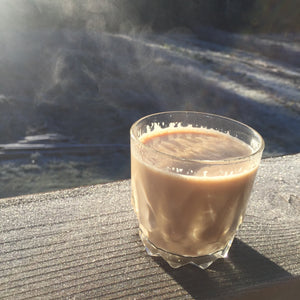 Did you know that the word chai is the word for tea in Hindi? And going back even further, the word chai originally came from the Chinese word for tea, cha or chá. In North America, we often see menus and shops offering "chai tea" and "chai tea lattes" but technically this is like saying "tea tea" and "tea tea lattes" respectively. It can be a bit confusing! So let's break it all down.
• Assam Tea • Chai • Chai Concentrate • Chai Latte • Etymology of Chai • History of Chai • History of Tea • Original Chai Blend • Whole Spices
---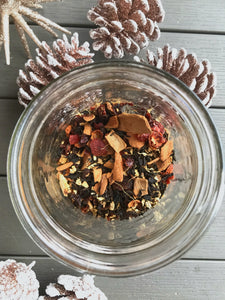 Spiced Tea for a Winter's Eve This spiced and fruity black-tea based blend was created after I asked my mum what ingredients she thought would make a perfect cup of tea for chilly nights. We brainstormed, blended, tasted and repeated. And this is what we finally created: Fireside Blend. Named by my sweetheart. Fireside Blend combines earthy Assam tea with cinnamon and citrus (orange peel) and spice (ginger), and finally rounds itself out with fruity notes of rosehips and cranberries. This is our favourite tea for chilly nights, perfect for when the summer turns into fall. We enjoy it almost...