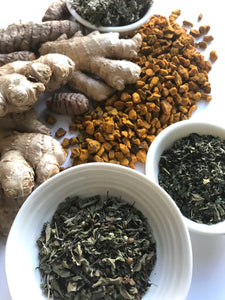 What are Adaptogens? Herbs have been used for thousands of years, and in every culture, to treat humans for ailments of all kinds: physical, mental, emotional and even spiritual. Today we are discussing the category of herbs and plants that target and treat stress and the symptoms of stress in the body – adaptogens or adaptogen herbs. Where Do Adaptogens Come From? Plants, like humans and other animals, are used to dealing with stress in their environment, whether from changes in the weather or drought or pests. In response to environmental and other stressors, plants naturally release hormones which help...
• "New Momma" Blend • Adaptogen Herbs • Candied Ginger Chai • Golden Turmeric Chai • Health Benefits of Chai • Herbal Blend • Holy Basil • Nettle & Rose Blend • Original Chai Blend • Shanti's Picks • Tulsi
---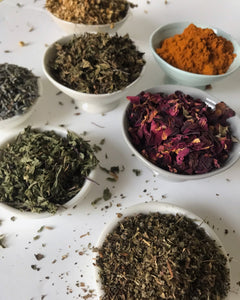 Shanti's Favourite Teas To Help Reduce Anxiety (or better yet, let's call them Best Teas for Ease!) Several years ago, I suffered an extreme bout of prolonged anxiety. Panic attacks, insomnia, night sweats, heart palpitations, feeling faint, ringing ears, even issues with my vision and having a hard time catching my breath. Mind racing, heart racing, thoughts racing. The worst of this era of my life lasted about a year or so, but there were more years building before that where these incredibly uncomfortable symptoms of anxiety crept in to my life. During that time, I tried so many things,...
• "Mom's Garden" Blend • "New Momma" Blend • Chamomile • Chamomile Tea • Herbal Blend • Herbal Tea • Holy Basil • Lavender • Nettle & Rose Blend • Peppermint • Rose Petals • Shanti's Picks • Teas for Anxiety • Teas for Ease • Tulsi