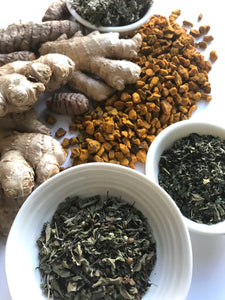 What are Adaptogens? Herbs have been used for thousands of years, and in every culture, to treat humans for ailments of all kinds: physical, mental, emotional and even spiritual. Today we are discussing the category of herbs and plants that target and treat stress and the symptoms of stress in the body – adaptogens or adaptogen herbs. Where Do Adaptogens Come From? Plants, like humans and other animals, are used to dealing with stress in their environment, whether from changes in the weather or drought or pests. In response to environmental and other stressors, plants naturally release hormones which help...
• "New Momma" Blend • Adaptogen Herbs • Candied Ginger Chai • Golden Turmeric Chai • Health Benefits of Chai • Herbal Blend • Holy Basil • Nettle & Rose Blend • Original Chai Blend • Shanti's Picks • Tulsi
---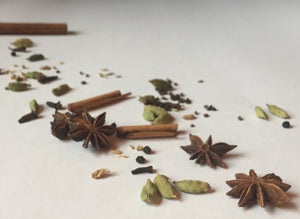 Need another reason to drink a nice cup of chai? Or how about seven! Traditional masala chai is made up of a blend of spices (like cinnamon, cardamom, ginger, peppercorns, cloves, fennel) combined with a black tea, often an Assam tea. Each of the spices used in chai has its own list of health benefits, especially the well known and much loved spice heavy hitters like ginger and turmeric. So, we could spend an entire blog post on any one of them - and one day, we will! - but for this post, we wanted to focus on the health...
• Assam Tea • Candied Ginger Chai • Chai • Golden Turmeric Chai • Health Benefits of Chai • Original Chai Blend • Whole Spices