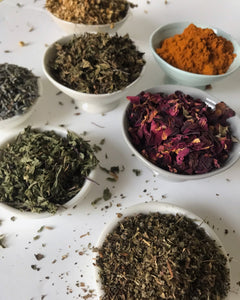 Shanti's Favourite Teas To Help Reduce Anxiety (or better yet, let's call them Best Teas for Ease!) Several years ago, I suffered an extreme bout of prolonged anxiety. Panic attacks, insomnia, night sweats, heart palpitations, feeling faint, ringing ears, even issues with my vision and having a hard time catching my breath. Mind racing, heart racing, thoughts racing. The worst of this era of my life lasted about a year or so, but there were more years building before that where these incredibly uncomfortable symptoms of anxiety crept in to my life. During that time, I tried so many things,...
• "Mom's Garden" Blend • "New Momma" Blend • Chamomile • Chamomile Tea • Herbal Blend • Herbal Tea • Holy Basil • Lavender • Nettle & Rose Blend • Peppermint • Rose Petals • Shanti's Picks • Teas for Anxiety • Teas for Ease • Tulsi
---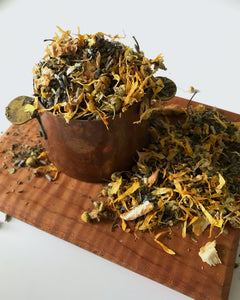 This blend is truly my mom, and is called... yep...
"Mom's Garden" Blend
. I  asked her to blend a tea that was what she would pluck from her garden. And here it is: spearmint, lavender, calendula, chamomile and orange peel.