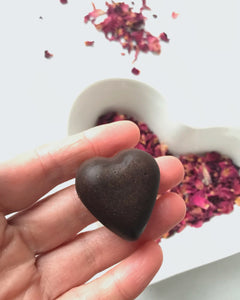 The first time I made homemade coconut oil based chocolates, I was amazed at how incredibly quick and easy it was and how delicious and smooth they were! With several ingredients and within 15-20 minutes, you have perfect mouthwatering chocolates... This recipe is flexible, and you can easily adjust amounts and ingredients to suit your particular taste or diet needs.
• DIY • Recipe • Rose Petals • Valentine's Day
---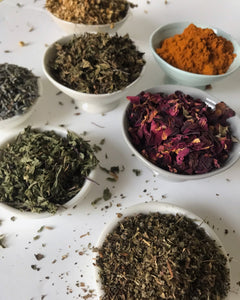 Shanti's Favourite Teas To Help Reduce Anxiety (or better yet, let's call them Best Teas for Ease!) Several years ago, I suffered an extreme bout of prolonged anxiety. Panic attacks, insomnia, night sweats, heart palpitations, feeling faint, ringing ears, even issues with my vision and having a hard time catching my breath. Mind racing, heart racing, thoughts racing. The worst of this era of my life lasted about a year or so, but there were more years building before that where these incredibly uncomfortable symptoms of anxiety crept in to my life. During that time, I tried so many things,...
• "Mom's Garden" Blend • "New Momma" Blend • Chamomile • Chamomile Tea • Herbal Blend • Herbal Tea • Holy Basil • Lavender • Nettle & Rose Blend • Peppermint • Rose Petals • Shanti's Picks • Teas for Anxiety • Teas for Ease • Tulsi
---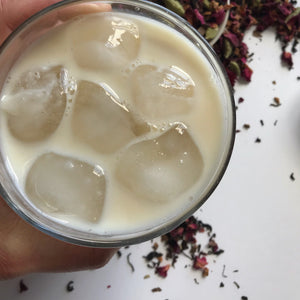 Here is an easy recipe for delicious iced chai, using the Quick Steep Method. Although there are several ways to make an iced chai, this one uses a simpler quick steep method (no stove top or pot needed) and can easily be used to make one cup or ten! You can even make a big batch and store in the refrigerator for up to a week, since with this style the milk isn't added until you serve.       Iced Chai • Quick Steep Method 1. In a glass measuring cup, add 1 tablespoon of your favourite chai blend...
• Candied Ginger Chai • Chai • DIY Chai • Golden Turmeric Chai • Original Chai Blend • Recipe • Rose Petal Chai • Rose Petals • Tea Tips & Tricks